Hello! Here is another 'For or Agaisnt' topic that many talk about!
The topic I am bringing to the table is: Little girls(or boys) having or not having the option to have make-up on! Meaning pretty much, anytime where we see a young girl in lipstick.
(Little girls in VOGUE Paris spread)
Its become more and more current in our society today to see girls younger and younger wearing a face full of make-up. Girls as young as 13 now-a-days can be seen with full foundation and the works when they are wearing make-up while other cases, parents let(throw) their young girl(sometimes boys) into child beauty pageants and usually give them a face full of make-up that usually makes them look 10 years older! While many think its really cute or harmless for a girl under 15 to be using cosmetics as a young age, others find it disgusting and over exposing the child into mature habits and ways.
(10 year old model)


The history of make-up dates back all the way back to ancient Egypt when the royals would color their lips and eyelids, then later in the middle ages, even though it was frowned upon constantly by church-goers, the trend was to have a pale face, so women would go to such lengths to apply chalk, lead, flour, or bloodletting! (which is where you pretty much cut yourself to bleed out blood, and in this case, to make yourself look paler) And though make-up continued to be a 'bad' thing to have and considered only for whores and actors, over time it grew more and more popular and eventually was expected over time due to its popularity to 18 and up women of the world.
But noticeably, in today's time, cosmetics and starting to affect our youth and it is slowly becoming something girls of younger ages grow to use daily more and more often. Most likely its because of how often they see older girls use it and along with the media's alluring 'pretty dollies' like Barbie, Bratz, or any other doll that is also crashing the trends by becoming sexier by each passing year.
(Newer Barbie[left] standing next to the first Barbie[right])
Some say that they love that their young girl is embracing beauty and desires to look 'prettyful.' That they do not mind purchasing their daughters lip gloss, eyeshadow, and a bit of blush if they want to 'look like mommy.' But who's to say they aren't growing up to fast? And there is also a more higher demand for younger models! More and more girls under 14 get cast as a model, for fashion magazines, where they usually end up looking like a 20 year old.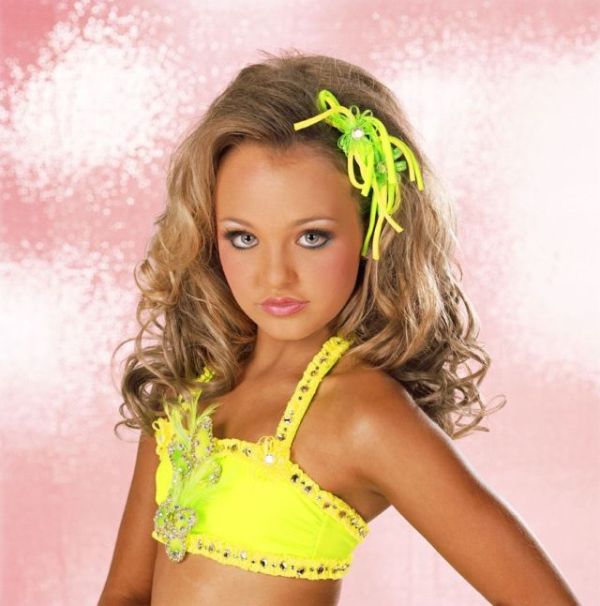 (girl having a photo taken for a beauty pageant & modeling)
And another case of caked up youth is with child beauty pageants, where we see thousands of under 13 girls looking as perfect as a porcelain doll, or as skimpy as a hooker.. you decide?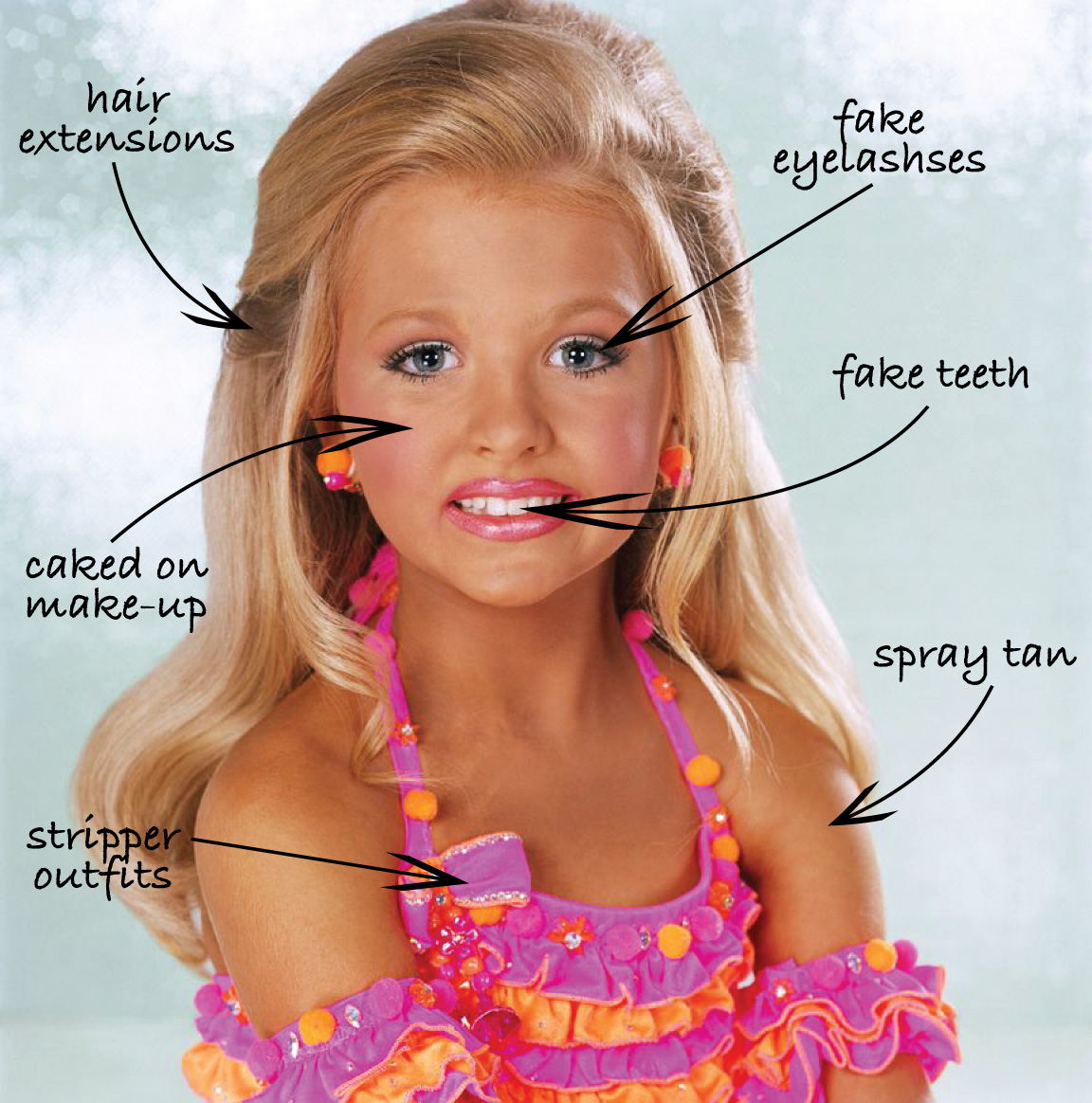 (Beauty pageant girl)
But usually they are covered in tons of make-up, sometimes told to wear a false set of teeth to hide their real teeth or missing teeth (they are usually around 2-8 years old), sprayed with constant hairspray, and end up having some kind of dance/performance where they 'shake their booties' in hopes of getting a giant tiara.
(From Toddlers & Tiaras)


While studies have shown, girls who participate in beauty pageants (no matter what age) end up growing up being extremely high maintenance, shallow, self conscious/overly concerned about appearance, and frequent thoughts of never being good enough and grow a lower self-esteem towards themselves.
---
So what do you think?
Are you FOR or AGAINST little girls being put in or even having the choice of wearing make-up?
When was the age when you first starting using make-up (if you do)?
Tell me in the comments and why!
Love, Dei
P.s. I thought I'd add a lot of photos to make it more visually interesting!